Welcome to Many Paths to Tread!
Welcome to Many Paths to Tread, your place for Tolkien related fanfic!  We are glad to welcome stories set in any Age of Arda, and featuring any of the Races!  If your fanfiction is based on the works of J.R.R. Tolkien and falls within our ratings guidelines, then it may find a home here.
We hope that you will not only post your stories with us, but that you will read the stories of many of the other fine writers we have among our number, and will leave comments for them!
Please feel free to let the mods know if you have any questions or concerns!
Meet the Moderators
Hey everyone, Cathleen here! I want to take this opportunity to welcome you all to the GFIC Group's brand new archive! We hope you'll find "Many Paths to Tread" an enjoyable place to hang out and archive your work. I've been writing Fanfic since 2004, coming in the back door, so to speak, by starting out in a non-mainstream genre, and via movie verse. I've had the pleasure of working with a number of incredible people in the fandom since that time, and I'm eternally grateful for each and every one of them and the things they have taught me. My heartfelt thanks to Dreamflower, Pearl Took, and Dawn Felagund, for without their committment and hard work, this archive would have continued to exist only in my dreams!
---
Hello, I'm Dreamflower, one of your mods. I've been in the Tolkien fandom since 1967, and have been writing LOTR fanfic since 2004. Cathleen asked me to co-mod the LOTR_Community_GFIC with her, and it has been a fun and enlightening experience. I am very excited to see us finally get our very own archive launched, and I hope that all of you will have a lot of fun reading and posting stories here! Please feel free to ask me any questions you may have.
---
Hi, I'm Pearl Took and I'm one of your Mods here at Many Paths to Tread. I have been a fan of LOTR since I was twelve years old back in 1966. I started writing fanfiction in 2002 and posted my first story in 2003. Since then I've written over 100 stories. Recently I have only been writing challenge stories for the LOTR Community Challenges.
---
I'm Dawn Felagund, and I'm honored to have been asked to be a part of this site as the webmaster and one of the moderators. The Lord of the Rings movies inspired me to read more about Tolkien's world, and I've been hooked ever since. I primarily play in the Silmarillion sandbox and adore the Elves best of all. I look forward to reading the stories on the archive and encourage any of you with questions or troubles with the site to contact me.
---
I'm Celeritas, the latest addition to the Mod Team! I started writing Tolkien fan fiction in 2004, but didn't join the fandom online for another four years. I primarily work with hobbits, in order to explore daily life in the Shire; and the Fourth Age, in order to explore the relationship between the present and an increasingly legendary past. It's a real privilege involving myself further in the fandom this way. Please don't hesitate to contact me if you have any questions or concerns.
Site Info
Categories
News
July-August News
The Tree and Flower Awards!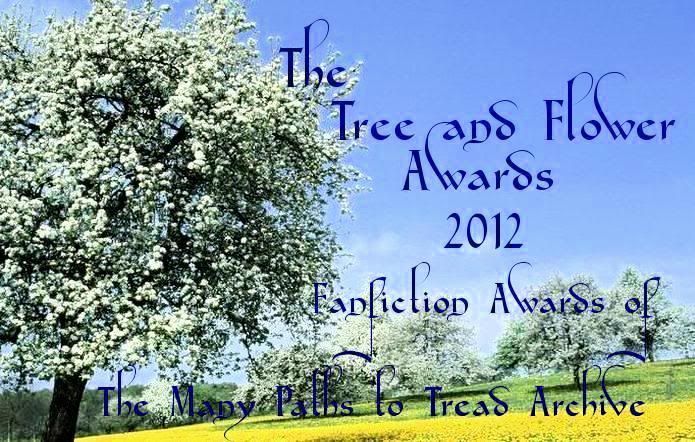 In celebration of our Third Anniversary, we are pleased to announce the very first Many Paths to Tread "Tree and Flower" Awards!

Here are the rules:

1. Only stories posted at the Many Paths to Tread Archive are eligible.
2. Stories must be posted at the MPTT Archive by August 3 of this year to be eligible. All stories posted to the site prior to that date are eligible.
3. No self nominations.
4. Nominations will be made to screened posts at the LiveJournal Community. (If you have trouble accessing LiveJournal, you may email the mods at: aelfwina@gmail.com, virginia_lee_redcat@yahoo.com, or celeritassagittae@gmail.com. to make nominations for you.)
5. Stories may run in only one category; if the story is nominated in two or more categories the author may choose where to run it. Nominators may nominate one story per category, but may make nominations in as many categories as they wish.
6. Nominators are permitted to promote the stories they have nominated, though they cannot ask people to vote for any particular one.
7. Nominations will open on August 10, and will run through August 24.
8. The first round of voting will begin on August 27, and will continue to September 14. Votes may be cast in a poll at the LiveJournal Community or in a poll at the LOTR_GFIC_Community Yahoo!Group. Voters are asked to vote at only ONE of the polls.
9. The winners in each category will run in a second round of polls to select the top four winners overall. Voting for that round will begin on September 17, and run through September 20. Overall winners will be announced on September 22.
10. Places will be first, second, third and Honorable Mention in each category, and in the overall round.

This is a simple old-fashioned "ticky-box" awards, but we hope everyone will enjoy participating in it! Come and help us celebrate our Third Anniversary!
If you've been nominated for or have won a prize in the Tree and Flower Awards, you can claim your banner here.
The August Challenge: Nonfiction

The August Challenge will once again have the theme "Nonfiction." You will not receive an element for this challenge; rather, we encourage all members to submit essays, research articles, and other nonfictional works related to Tolkien's legendarium.

The August challenge entries will be due Tuesday, August 14 and will be revealed on Thursday, August 16.

Please tag your essay "non-fiction" and " '12 august". Use the following special header for your nonfiction entry: Put "Nonfiction" as the theme, and as "type" indicate whether it is an essay, research, tutorial or other type of nonfiction. Make sure to put the name of your piece and your name in the subject line (e.g. "Sindarin Verbs by Scholar Sue").

Author: Title: Rating: Theme: Subject: Type: Author's Notes: Word Count:
The Special Third Anniversary Challenge: Upon the Hearth
The Many Paths to Tread Archive is three years old! To celebrate this milestone, we are posting stories from a very special challenge!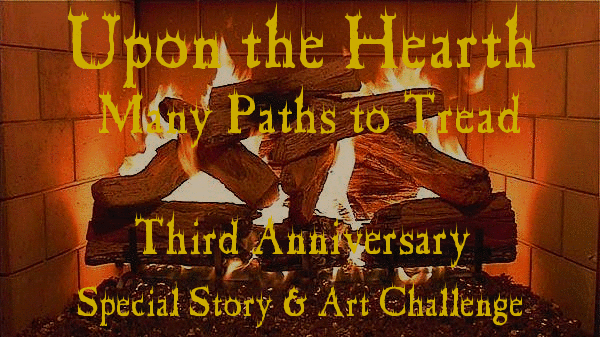 We announced a Special Third Anniversary Challenge, for stories inspired by the poem in The Fellowship of the Ring, Chapter III, "Three's Company, that begins "Upon the Hearth the Fire is Red", and includes the words that inspired the name of the archive: "...and there are many paths to tread".

This challenge was for both stories and art, and we had several authors and artists participating!

Standing Stones by Dreamflower Bilbo and young Frodo come across an astonishing sight in the Northfarthing.
Art: Towards the Moon or to the Sun by Oshun Icons, Photoshopping
"In Ships Made of Dreams" by Shirebound In the West, Frodo and Bilbo are encouraged to try something new.
The World Ahead by Linaewen Boromir must decide which road to take in his journey to Rivendell.
"Mirror of World and Time" by Ellynn Ithilwen Galadriel finds one very special place in her new homeland.
Art: Many Paths to Tread by Linda Hoyland Slide show, photography
Art: Standing Stone by Linda HoylandPhotography
Fare you well - Linda Hoyland Aragorn bids farewell to his Hobbit friends.
Hidden Paths by Linda Hoyland Aragorn's thoughts as the Fellowship prepare to depart on their quest.
Shadows by Linda Hoyland Faramir is imprisoned in a realm of shadows
New Roads and Secret Gates - by Larner Faramir has the chance to learn more about the Hobbits and his brother's interactions with them as a member of the Fellowship of the Ring.
Walking Away-- Lothuial's Tale by Erulisse (one L) Lothuial, a Speaker of the People, is finally leaving her home in the Greenwood to join others, head to the Havens, and finally pass over the Sundering Sea to the West.
ETAPreservation by songspinner9 Merry and Pippin go foraging in the summer with a purpose...set about two years after their return to the Shire.

We'd like to thank all of the authors and artists who participated! Thank you for taking part in this birthday celebration, and allowing us to give the gift of stories and art to others.

Please drop in and read the stories or look at the art, and take a moment to thank the givers! We hope everyone enjoys them!
The July Story Challenge: Fixed-Length Ficlets
Here are the links to the July 2012 Lazy Summer Fixed-Length-Ficlet Challenge stories! For this challenge each author chose a number between 101 and 400 to be the exact word count for the story. The theme was "lazy summer", inspired by this quotation:(from Sam Keen): "Deep summer is when laziness finds respectability."

We have seven stories!
In the Cove by DreamflowerYoung Frodo has an important task: teaching his little cousin Merry to swim...
Clarity: A Fishing Story by ErulisseArwen reviews a lifesaving choice while fly fishing.
Keeping Cool by Linda Hoyland On a hot summer afternoon, Aragorn and Faramir are nowhere to be found.
Deep Summer by The Mad Hobbit Frodo fends off his eager serving lad on a hot day in Buckland.
A Catch Along the Brandywine by LarnerAt least one individual made a big catch along the Brandywine that lazy summer day!
As Unkind as Summer by Paranoidangel Elrond teaches Estel a lesson about hot summer days.
Week Without Thranduil 2/? by Sivan Shimesh Summary and Warning could be found in 1st chapter.


Thank you all for participating! And I hope everyone will come and check out the stories!
The July Art Challenge: Miniature
The theme for this month's challenge was "Miniature", and each artist was asked to create something tiny. Any media was allowed.

We had five entries this month!

Miscellaneous Small Things by Oshun
Smaug by Dreamflower
Sunset in Hollin by Dreamflower
Clocks and Daisies by LindaHoyland
Green Dragon by Erulisse

Artists, thank you so much for taking part in the "Miniature" challenge! And remember, we always take late entries!

We hope that everyone will go and see the work of our talented artists! And be sure to tell them how you like their work!
The ToME Awards

The Tales of Middle Earth Awards will be a brand new review-based Tolkien-centric awards. The hopes are to launch the awards early next spring. If you are interested in taking part in these awards, you can join in the fun of building it from the ground up by joining the The Tales of Middle Earth Planning Community on LiveJournal.

Volunteer to take part in the planning, or in helping out with the awards when they are launched!
Posted by: Dreamflower on 07/28/12 - 07:40 pm(0 Comments)

---
---