Rated PG
[Reviews - 1]
Printer Friendly:
A chance ambush brings back troubling memories. Set T.A. 2956.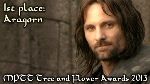 ---
Story Notes:
This story was written for the February Teitho Challenge "History Repeats Itself" where it placed first. It was nominated for the 2013 Tree and Flower Awards where it placed first in the category "Favorite Characterization of Aragorn."
It was betaed by the lovely and talented Cairistiona.
---
Table of Contents
1. By Names Unknown by MP brennan [Reviews - 1] (2414 words)
Huge, huge thanks to Cairistiona for her wonderful work as beta and to StarLight and the TaFA volunteers for the beautiful banners!
---
Story Information
Categories: The Lord of the Rings
Characters: Half-Elven: Elladan, Half-Elven: Elrohir, Northern Dúnedain: Aragorn/Strider, Northern Dúnedain: Halbarad
Genres: Hurt/Comfort
Places: Eriador
Times: 3-Third Age: late
Warnings: None
Challenges: None
Series: None
Chapters: 1 &nbsp&nbsp | &nbsp&nbsp Word count: 2414 &nbsp&nbsp | &nbsp&nbsp Read Count: 1973
Completed: Yes &nbsp&nbsp | &nbsp&nbsp Updated: 03/16/13 &nbsp&nbsp | &nbsp&nbsp Published: 03/16/13

---
---