Penname: MP brennan [Contact]
Real name: Brennan
Member Since: 03/04/13
Membership status: Member

Biography:

I started writing LotR fic in 2008, had a burst of productivity in early 2009, and then had to take a long break while I survived college and got into grad school. As of 2013, I'm cautiously beginning to write again. My fics are mostly Aragorn-centric and focus on the years before the War of the Ring. They are cross-posted on FFN, Stories of Arda, and my livejournal.
[
Report This
]
id='active' Stories by MP brennan [26]
Favorite Series [0]
Stories by MP brennan
Rated PG13
[Reviews - 1]
Table of Contents
A series of reflections, in vignette form, from the lives of Aragorn and Denethor.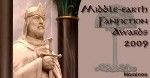 Categories: The Lord of the Rings
Characters: Gondorian: Denethor, Steward of Gondor, Gondorian: Ecthelion, Gondorian: Faramir son of Denethor, Half-Elven: Elrohir, Half-Elven: Elrond, Northern Dúnedain: Aragorn/Strider, Northern Dúnedain: Arathorn, Northern Dúnedain: Gilraen
Genres: Character study, Drama, Vignette
Places: Bree, Rivendell/Imladris, Gondor, Gondor: Minas Tirith/Minas Anor
Times: 3-Third Age: late, 3-Third Age: the War of the Ring
Warnings: 2. mild violence, 8. character death
Series: None
Chapters: 1 &nbsp&nbsp | &nbsp&nbsp Word count: 3427 &nbsp&nbsp | &nbsp&nbsp Read Count: 255
Completed: Yes &nbsp&nbsp | &nbsp&nbsp Updated: 03/08/13 &nbsp&nbsp | &nbsp&nbsp Published: 03/08/13
[Report This]
---
---
---